The Friends of Berrien County Trails worked with Southwest Michigan Planning Commission and Abonmarche to create a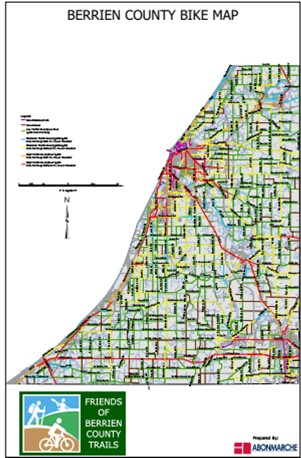 Berrien County Bike Map. This map shows users where shared use paths are located. It also shows gravel roads. Lastly, roads are rated for bicycling based on which roads have wide paved shoulders and traffic count information. There is an overall county map and that map is broken into 4 quadrants (North, Central, Southwest and Southeast).
Click on these links to download the pdf files of the maps.
North (Hagar, Coloma, Watervliet, St. Joseph, Benton and Bainbridge Townships)
Central (Lincoln, Royalton, Sodus, Pipestone, Lake, Baroda, Oronoko and Berrien Townships
Southwest (Chikaming, Weesaw, New Buffalo, Three Oaks and Galien Townships)